Kyle Field Seating Chart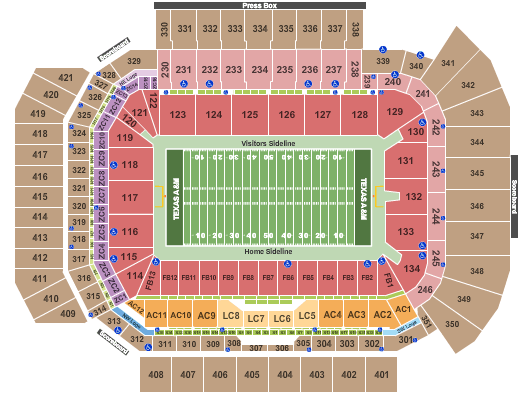 NOTE: Seating layouts may change depending on the type of event. Please check the individual seating chart when selecting your tickets.
All entries open 90 minutes prior to kickoff. Entry to Kyle Field should follow the below list:
All-American Club: Entry 3
BOR/Chancellor: Entry 4
East Side Suites: Entry 8
HS Coaches: Entry 2
Legacy Club: Entry 3
Media: Entry 7
Zone Club: Entry 5
NE Loge: Entry 5
North Elevators: Entry 6
NW Loge/SW Loge: Entry 3
North Side Suites: Entry 5
President: Entry 2
Press Box: Entry 7
Recruits: Bright Complex
Students: Northeast Tower & Southeast Tower
TAMU Player-Guest: McFerrin Athletic Center
TAMU Student-Athletes: Entry 8
Ticket Sales, Will Call, Resolution: McFerrin, and Entries 3, 5, 6, 8 & 9
Visiting Team Player Guest: Southeast Tower
West Field Box: Entry 3
West Side Suites: Entry 3
Before purchasing your tickets, do know that the majority of seats at the stadium are bleacher seating, meaning no chair backs. If you're not thrilled with sitting on bare bleacher seats, be sure to bring a seat cushion.
The vast majority of seating at Kyle Field offers little to no protection from harsh Texas's sun that can really take its toll on you if you're out in it for three hours at a time during a football game.
Here are some examples of seating that is at least partially covered or has some shade available at certain points of the day:
Rows 30 and up in Sections 133 and 134
Rows 35 and up in Section 128
Rows 3 and up in Section Z1
Rows 34 and up in Section 235
Rows 18 and up in Section 330
Rows 15 and up in Section 408
Rows 23 and up in Section AC3
Additionally, the following seats in the sections & rows below include chairbacks:
All seats in Club sections
Sections 530 through 543
Sections 550 through 568
All North and South Box sections
Rows A through K in sections 640 through 643
Rows 1 through 9 in sections 610 through 619
All seats in sections 510 through 520
All seats in sections 100 through 106 as well as 300 through 306
The best seats are located in the sections closest to midfield such as Field Box Sections 5 through 8 on the Texas A&M side. These seats provide enough height to watch games develop while still having a great view of the entire field. If you have a better budget for the tickets, you are advised to choose seats in sections 124 through 127 on the field level of the visitor's side. Do keep in mind that your seats would be just a section in front of the A&M student sections thus, it may be rowdy and loud.
Reserve your seat today by ordering your tickets. Head over to the Upcoming Events page to get started.
For information on the ticket & refund policy please view the Kyle Field ticket information page.
For all upcoming events at the Kyle Field at Texas A&M University please check out the Kyle Field events schedule.